"Put Captain Solo in the cargo hold cup holder."
So a company called Kotobukiya has put out two Star Wars silicone ice trays, one for Han Solo and the other for R2-D2. Unfortunately I only have Han Solo to review right now. First, I absolutely loved the idea of a Han Solo in carbonite ice cube; it's such a great idea. It's hard not to crack a grin when you drop a couple of these into a drink. The great thing about this ice tray is that it is made from silicone. This makes it easy to remove the ice cubes from the tray and will ensure you will have this for a very long time. A quick chemistry lesson will also teach you that silicone does not promote the growth of bacteria, which is nice since you're probably going to consume this.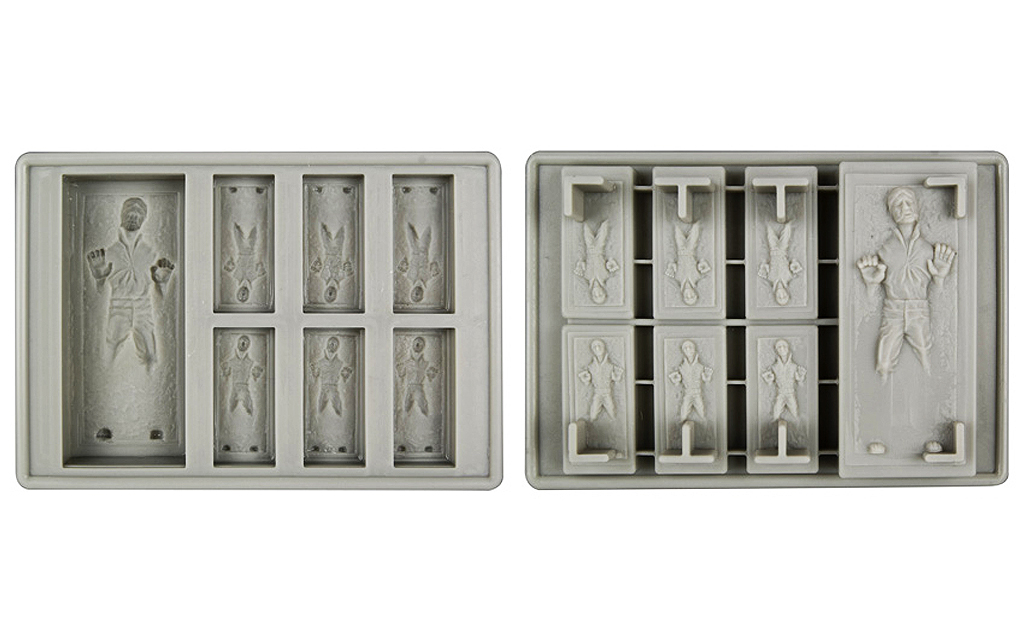 This product is not without its flaws though. Using it just for ice is going to be a bit of a disappointment. The tray has one section for one big ice cube, while the rest of the tray is divided for six tinier versions. The problem is that there is almost no detail on the large ice cube and there is even less on the tinier ones. This problem can be alleviated though when you pour something thicker in the tray, like chocolate or jello. Chocolate working especially well in this case. The upside is that the cost is cheap, you can generally pick one of these up for around $10.
I give it 3 out of 5 Scruffy-Looking Nerf Herders.